Here at Sheesha Lounge, we sell a variety of hookahs, flavored tobacco (shessha), coals, pipes, and other hookah supplies. For all purchases you must have a state issued ID that proofs you are at least 18 years old!
Here is a quick list of some of the awesome hookahs and supplies we sell: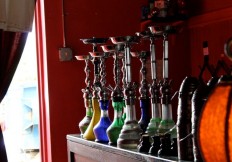 We are located in Allston MA, come on down, and enjoy our hookahs, and flavored tobacco!
We are looking forward to supplying you with some of the best hookahs in the Allston MA area. For more information on some of the hookah supplies we have for sale, please feel free to give us a call at 617-782-7433.