The holidays are right around the corner, if you're looking for some gift ideas, look no further than our hookah bar in Allston MA! No, we're not giving away our hookah bar, but we do sell gift cards, hookahs, shisha, and other hookah supplies!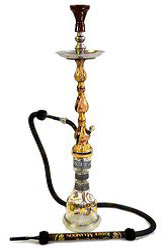 If you have a friend, who loves hookah, what better gift to give him or her than a hookah?! We sell a variety of top brand hookahs, below you will find the different hookah brands we have for sale:
We have both single and double hosed hookahs for sale; big, tall, short, small, whatever you're looking for, we've got it!
What good is a hookah without some hookah supplies?! To go along with our awesome hookahs, we also sell shisha (flavored tobacco), coals (both quick lit, and natural), tweezers and more!
For the hookah lover in you friends group, the perfect gift can only be a hookah! If you're worried about buying the wrong thing, one of our associates at Sheesha Lounge will help you find your way around! Or, if you're more of a gift card giver, feel free to purchase some gift cards, and let your friend shop for himself!
For more information about our hookah gifts, please give Sheesha Lounge a call at 617-782-7433. You must be 18 or older to purchase any hookah supplies!
Happy holidays!!