Here at Sheesha Lounge, we supply premium hookahs at a great price; our hookah lounge is located in Boston MA, and we are open seven days a week!
The question most commonly asked is, "What sets our hookah bar apart from our competitors?" The quick answer is that we have a huge variety of sheesha flavors, we use natural coals, we clean our hookahs thoroughly, and the environment is great for relaxation! Not to mention, our employees are experienced, and know how to pack a mean hookah!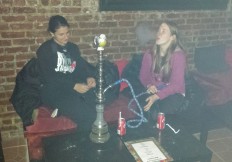 As long as you're 18+, all are welcome at Sheesha Lounge! We open our door during the afternoon hours, and are open until two in the morning, leaving you an ample amount of time to enjoy hookah!
Hookah is a great way to relax after along day of work or school; you can even study and get work done while smoking hookah!
Our hookah lounge is located at 417 Cambridge Street, for more information please give us a call at 617-782-7433; we are looking forward to providing you with great hookah smoke and a nice relaxing environment!