Working full time or even going to school full time can get really stressful; it's always good to have something you can turn to to help you relief some stress. Coming to our hookah bar in Allston MA and enjoying some of our premium hookahs, can really help you clear your mind, even if it's just for an hour!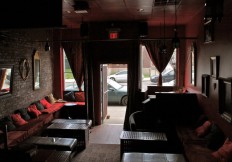 We have a friendly staff who will pack a great hookah for you and your friends. Our environment is conducive to relaxation; you can relax on our comfy couches, while watching television, reading a book, or talking with friends.
In our hookah lounge, you can enjoy some TV, conversation with friends, video games, card games, and more, all while you're enjoying our great hookah smoke.
We have a huge selection of sheesha flavors for you to choose from; you can mix the flavors, choose generic ones, and even enjoy your hookah in a fruit bowl! The options available to you are endless!
It is always our goal to help you relax after a long day at work or in the library; we believe that our staff, the environment, and our hookahs will help all of our customers relax!
For more information about our hookah bar, please give Sheesha Lounge a call at 617-782-7433.