Hanukkah has already started, and Christmas is next Thursday, you're running out of time to shop! If you need some gift ideas, look no further than Sheesha Lounge! We have hookahs, shisha, coals, other hookah supplies, and gift cards for sale.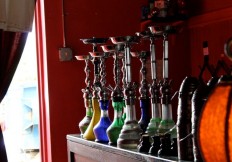 Hookahs are great gift ideas, especially for the hookah lover on your shopping list!
Our hookah bar is located at 417 Cambridge Street, Allston MA, 02134. Stop on by and shop our huge selection of hookahs. Or if you have a spare minute, feel free to smoke some hookah and take a load off!
For more information about our hookah sales, please feel free to give the lounge a call at 617-782-7433!
Remember, you must be 18 or older to even set foot in our hookah bar, and please do not buy hookah supplies for anyone underage, it's against the law!!