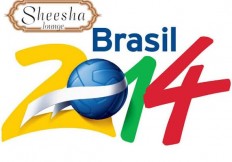 The Fifa World Cup officially starts today; the whole world literally stops for 90 minutes to watch their favorite team compete with some of the greatest soccer players on the planet! You can cheer for your favorite team or teams here at Sheesha Lounge in Boston MA.
Our hookah bar will be airing games for your enjoyment, come enjoy some great soccer with some awesome hookah smoke! Our lounge is open seven days a week, and we will be airing as many soccer games as possible!
What better combination than soccer and hookah?! Choose between our huge selection of sheesha, sit back, grab a snack, and smoke some hookah while watching the world's best.
Our hookah bar is located at 417 Cambridge Street, Allston MA, 02134. For more information, please give Sheesha Lounge a call at 617-782-7433.
Must be 18 or older to enjoy our premium hookahs!