At our hookah bar in Allston MA, we sell hookahs and supplies to our clients; supplies include shisha, tweezers, goals and of course hookahs.
We have a huge variety of hookah brands, checkout the list below:
To go along with your new hookah, why not purchase some shisha, or flavored tobacco? What good is a brand new hookah without some shisha? We sell all of your favorite flavors, and even get new flavors if you're ever courageous enough to try a new one!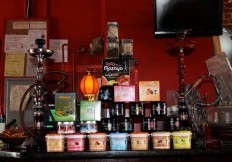 Of course, you still need a few more things to enjoy your own personal hookah; you need coals, of course! We don't sell the quick light coals, only natural coals. We don't use the quick light coals at our hookah bar, why would we sell them to our customers? Natural coals make your packs last longer and taste better longer. The quick light coals burn out too quickly, and burn through the shisha.
Now that you have all of the supplies you need, you're ready to enjoy your hookah! Of course, if you don't have a place to smoke, you're always welcome at Shessha Lounge! We are open seven days a week, stop on by for some hookah!
For more information about our hookah sales and bar, please give us a call at 617-782-7433; we are located at 417 Cambridge Street, Allston MA, 02134.