Weekends are a time to enjoy your life with close friends; it's also a great time to relax with a freshly packed hook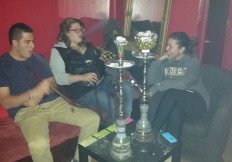 ah! Our hookah bar is open on the weekends, and we don't close until 2am! You can either start or end your night at our hookah lounge in Allston MA.
After a night of dancing and drinking, our hookah bar is a great place to unwind and relax. Nothing is better than hookah at the end of a long night of partying.
Sit back and enjoy great hookah smoke with your friends, as you all discuss and relive the fun night you just had.
We have a huge selection of shisha; are you going to go with your personal favorite, or will you be adventurous and try a new flavor? The decision is solely yours and your friends' to make! Once you've made the difficult decision of choosing your flavored tobacco, the rest of the night is yours to relax with awesome hookah smoke and your friends.
For more information about our hookah bar, please feel free to give Shessha Lounge a call at 617-782-7433. Only 18+ will be admitted to our lounge, and we do ask for ID's!!