For those first time smokers, shisha (also spelled sheesha) is a blend of fruit, molasses and tobacco leaves; also known as flavored tobacco!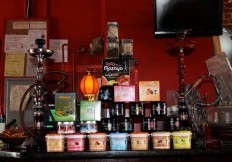 Unlike cigarettes, there is absolutely no tar in our shisha, so when you leave our hookah lounge, you won't smell like smoke. Also, the nicotine level in our flavored tobacco is very low, only about 0.05%. Again, cigarettes has a much higher nicotine level, which makes it more addicting.
We have over 30 flavors, and we carry a variety of shisha brands; some of these brands include: Al-fakher, StarBuzz and Fantasia. The smoke produced by our shisha is tight, milky, thick and pleasant!
Our shisha products are the top brands on the market, which will allow you to enjoy a nice relaxing hookah session. So come on down to our hookah bar in Boston MA, and tryout one of our many sheesha flavors! Only 18+ will be admitted, so please bring your IDs!! We are located at 417 Cambridge Street, Allston MA, our phone number is 617-782-7433.